Cowpoke Clyde Rides the Range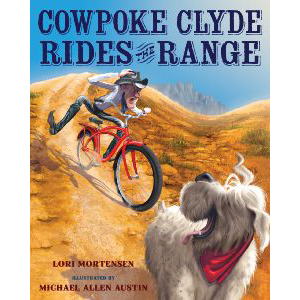 Cowpoke Clyde is plumb confused. An ad in his favorite catalog says he oughta buy a bike. But why should he do that? After all, he's got a horse. Still, a bike wouldn't buck or bite, and he wouldn't have to feed it. He orders one, and when it comes, he mounts up and sets right off, wibble-wobblin' down the road. Good thing he's got his trusty friend Dawg to look out for him. Turns out learning to ride a bike is just a tad bit harder than he thought!
With its rip-roaring rhyming text and turn-the-page revelations, this book is pure read-aloud fun.
REVIEWS:
"Vibrant digitally produced illustrations give Clyde a distinct personality and meet the challenge of capturing a cowboy in motion on a bicycle, and close-up views of the prickly porcupine and bug-eyed bighorn sheep effectively animate the critters so they seem ready to jump right off the page. Another doggone funny cowboy caper chock full o' chuckles."
— Kirkus Reviews
Starred Review
". . . Austin's illustrations provide graphic-novel-like perspective, such as looking upward as Clyde pops a wheelie to avoid the porcupine."
— Booklist